Friday February 28, 2020
Washington News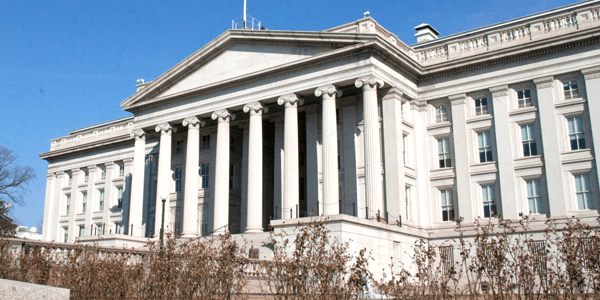 IRS Warns of "Dirty Dozen" Tax Scams
During the month of March, the IRS launches a campaign to reduce tax fraud. The traditional name of this campaign is the "Dirty Dozen" tax scams. The first scam the IRS warns of is phishing emails designed to steal your identity.
IRS Commissioner Chuck Rettig stated, "Taxpayers should be on constant guard for these phishing schemes, which can be tricky and cleverly disguised to look like it's the IRS. Watch out for emails and other scams posing as the IRS, promising a big refund or personally threatening people. Don't open attachments and click on links in emails. Don't fall victim to phishing or other common scams."
Criminals often attempt to use a click-through links to load malware on your computer. This malware may send your passwords and financial account information to the fraudster so he or she can file a tax return posing as you and claim your refund.
The 2019 filing season has produced new fraud variations. Some fraudsters target individual taxpayers and some target tax advisors.
Bank Account Fraud – If the fraudster obtains your bank account information, he or she may file a tax return and have the refund deposited in your bank account and then try to reclaim the refund. The scammer will call claiming to be from the IRS and will threaten prosecution if you do not return the improper refund. You are directed to return the refund, but the account receiving the payment is controlled by the fraudster, not the IRS.
Business Email Compromise – Criminals may send emails to CPAs, enrolled agents or other tax advisors using one of several fraud strategies. He or she may request payment of an invoice or pose as an employee asking to change his or her payroll direct deposit to a new bank. Some fraudsters claim to be company executives and direct the finance staff person to make a wire transfer. In all of these cases, the transfers are sent to a fraudster's account.
The Service offers specific security tips to protect your data. First, use security software that contains a firewall and anti-virus protection. Your security software should be automatically updated each day.
Second, be suspicious of unsolicited emails and do not click on any links if you are uncertain of the sender. A criminal may claim to be a friend and use his or her name, but if the email address is unusual do not click on any links.
Security is an ongoing concern for everyone who uses a computer. Taking a few simple steps to protect your data can save you from a substantial loss.
2018 Excise Tax for Highly Compensated Employees
The Tax Cuts and Jobs Act created a potential 21% excise tax on certain highly-compensated nonprofit employees. The excise tax under Sec. 4960 generally applies to covered employees who receive more than $1 million in compensation.
Many football coaches at large universities have compensation packages well over the $1 million threshhold. Other employees with special skills in research, finance or administration may also be covered.
Section 4960 potentially impacts applicable tax-exempt organizations (ATEOs). Notice 2019-9 (31 Dec 2018) provided interim guidance on Sec. 4960.
Section 501(a) nonprofits and government entities qualified to exclude income under Sec. 115(1) are ATEOs. However, many state universities do not have Sec. 501(a) status and do not exclude income under Sec. 115(1). While Notice 2019-9 suggests these state universities are not ATEOs, the Joint Committee on Taxation (JCT) "bluebook" indicates Congress intended to include state universities as ATEOs. It may require a technical correction to effectuate the intent of Congress.
Covered employees include the five highest paid staff members at an ATEO. If an employee is classified as a covered employee, he or she will always retain that classification in the future. Compensation generally includes wages (except Roth contributions). Employers will need to track wages of highly compensated employees using the principles articulated under Sec. 4960. There may be differences between these amounts and the normal W-2 wage statements.
There is an exception for medical doctors and veterinarians. The excluded amounts include compensation for rendering personal medical and veterinarian services. If a medical doctor or veterinarian is an administrator of an organization and paid for management services, the excise tax applies. Medical doctors and veterinarians may ask their organizations to make a reasonable allocation of compensation between these personal medical services and other types of activities.
The high-compensation excise tax will generally apply to parachute or excess payments. These are often made to executives in the year of retirement.
The excise tax is due on the 15th day of the 5th month after the tax year. For calendar-year nonprofits, this excise tax will be due on May 15.
Estate Beneficiaries Must Pay Estate Tax
In
United States v. Donna Ringling et al.;
No. 4:17-cv-04006 (21 Feb 2019), the U.S. District Court for the Southern Division of the District of South Dakota held the beneficiaries of an estate liable for payment of estate tax.
Harold Arshem passed away on December 24, 1999. He bequeathed his estate to his daughters Donna Ringling, JoAnn Jandreau and Kathryn Standy. The three daughters were appointed as co-representatives.
The estate included farmland, vehicles, farm products, financial accounts and insurance. Arshem also held contracts for deed from sales of property to his grandson Kory Standy.
In June of 2003, Special Administrator Stan Whiting was appointed. He was ordered to file a federal estate tax return and to amend the South Dakota inheritance tax return.
On April 14, 2008, co-personal representative Donna Ringling signed IRS Form 706. The estate reported total asset value of $834,336 and an estate tax payable of $28,939. No payment was made at that time.
On July 14, 2008, the IRS assessed the estate $65,874.80 for taxes, penalties and interest. The co-personal representatives and Standy made partial payments, but on May 25, 2018, the remaining estate obligation was $63,479.08.
Ringling maintained the IRS was incorrect in the tax calculation and contested the inclusion of various assets in the estate. Because the IRS documented the tax due and there was joint ownership of estate property between Arshem, the three daughters and Standy, the calculation was upheld.
Because Ringling did not prove the elements of reasonable cause, the penalties were also applicable. Since the estate did not have any assets, the defendants who received the estate property were liable for payment of the estate tax.
Applicable Federal Rate of 3.2% for March -- Rev. Rul. 2019-7; 2019-10 IRB 1 (15 Feb 2018)
The IRS has announced the Applicable Federal Rate (AFR) for March of 2019. The AFR under Section 7520 for the month of March is 3.2%. The rates for February of 3.2% or January of 3.4% also may be used. The highest AFR is beneficial for charitable deductions of remainder interests. The lowest AFR is best for lead trusts and life estate reserved agreements. With a gift annuity, if the annuitant desires greater tax-free payments the lowest AFR is preferable. During 2019, pooled income funds in existence less than three tax years must use a 2.2% deemed rate of return.
Published March 8, 2019
Previous Articles
Average Income Tax Refund Up 1.3%
IRS Reports "Amazing Recovery" from Shutdown
IRS Phone Calls Peak on February 19